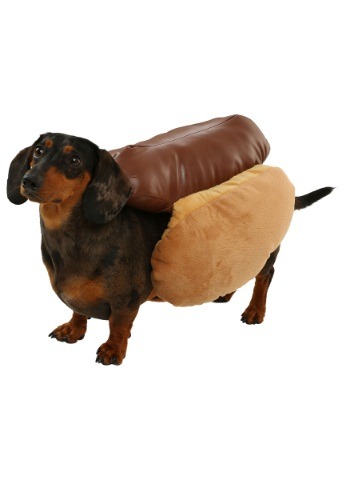 Hot Dog Costume for Dogs
Everyone has heard the phrase, you are what you eat. We're not really sure what that phrase is supposed to mean, since eating too much candy doesn't make you any sweeter; it just gives you a really terrible belly ache. But if that phrase applied to your pooch, then he'd definitely want to be a big old hot dog. Why? Surely, if he dressed like a hot dog, that would mean that he gets to eat plenty of hot dogs and make no mistake. Your beloved pooch loves hot dogs, especially those ones that have fallen onto the ground. (Ground-flavored hot dogs are a canine's favorite flavor of frank.) Well, now you can make your little doggie's wish come true with this costume!This Hot Dog costume is canine-friendly wear that turns him into the star of any costume party. The body piece consists of a top that uses faux leather to look like a perfectly cooked frank, while the sides are a soft velour to create the look of a bun. It's the easiest way to let your pooch look like the kind of food that makes his mouth water!
Price: $19.99 from HalloweenCostumes.com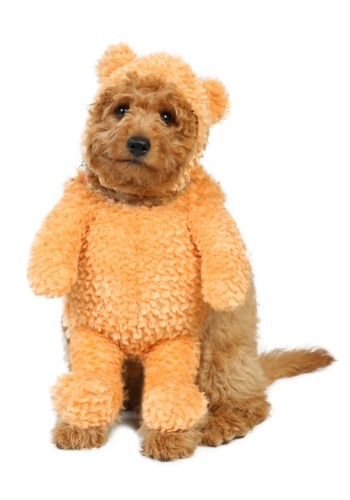 Is that a bear? Nope! Is that a dog? Well, it's both a dog and a bear and it just may be the cutest thing that we have ever seen! If you're a dog owner, you probably spend a majority of your day trying to please your pooch. Walks, treats, and belly rubs...
---
Results from Amazon.com...
Sorry, no results from Amazon were found!
Our Info: About Us | Contact Us | Privacy Policy | Terms of Use | Support Centre | Partners| Articles | Salonhive.com
Copyright © 2016 CozShopping.com. All Rights Reserved.