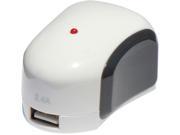 CIRAGO IPA2400WALL White 2.4A AC Wall Charger Type: Wall Charger Compatible Phone Manufacturer: Universal Output Amp: 2.4A Features: Compact, lightweight design Compatible w/Apple Compact USB based AC wall charger to charge your iPad, iPhone or iPod.
---
Results from Amazon.com...
High Quality Replacement Charger Part. Over Voltage and Current Protection. AC 110V-220V Wide International Travel Voltages Input.
---
Our Info:
About Us | Contact Us | Privacy Policy | Terms of Use | Support Centre
Automotive | Tobacco Products | Electronics | Software | Jewelry | Books and Magazines | Web Hosting | Hotel, Tour and Travel
Pet Care | Medical Supply | Furnitures | Health and Beauty
Partners | Articles | Salonhive.com
Copyright © 2016 CozShopping.com. All Rights Reserved.