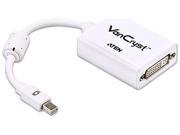 Aten Mini DisplayPort to DVI Adapter Color: White Connector A: Mini DisplayPort Connector B: DVI
---
Results from Amazon.com...
New - Retail. 1-Year Warranty. ATEN UC232A. Aten UC232A USB to Serial Adapter.
---
---
T-Power (TM) Made with the highest quality (( Extra Long 6.6ft cable cord )) Total Cord Length Is Extended to 6.6 ft. Brand-new Input Voltage Range: AC 100V - 240V. CE/FCC/RoHS certified. 1-year limited warranty. Compatible Models: Aten Technologies CS-1732...
---
Our Info:
About Us | Contact Us | Privacy Policy | Terms of Use | Support Centre
Automotive | Tobacco Products | Electronics | Software | Jewelry | Books and Magazines | Web Hosting | Hotel, Tour and Travel
Pet Care | Medical Supply | Furnitures | Health and Beauty
Partners | Articles | Salonhive.com
Copyright © 2016 CozShopping.com. All Rights Reserved.